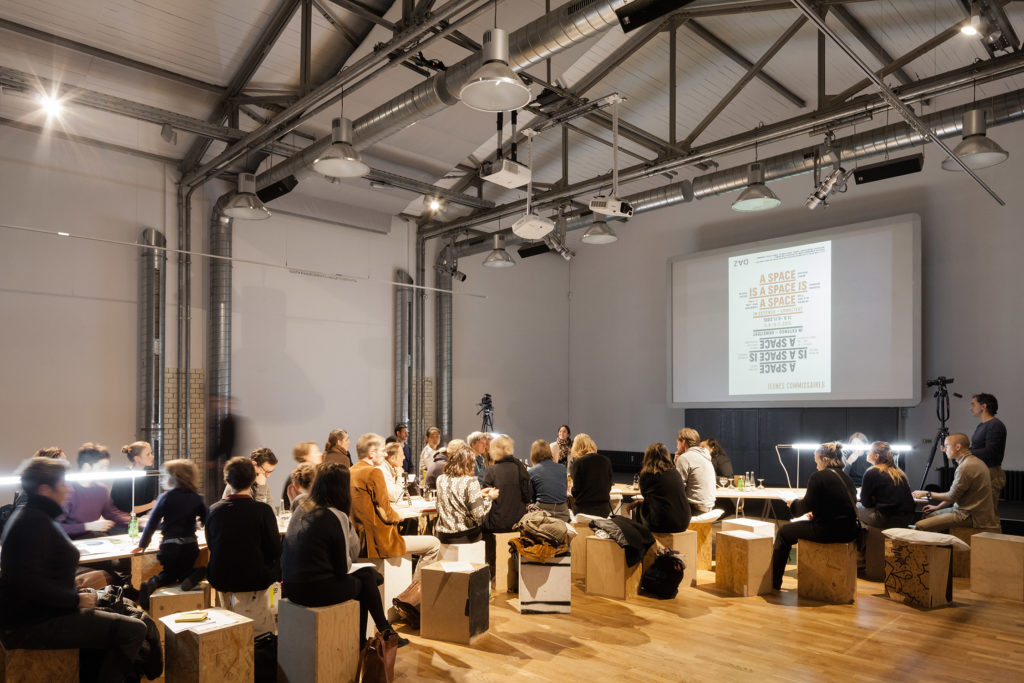 The side event, curated by Karima Boudou as part of the exhibition A SPACE IS A SPACE IS A SPACE, consists of a reading group and a film screening.
The reading group at 6 p.m. aims to draw a line between an alternative group of San Francisco city dwellers in the 1960s and the present situation of gentrification along the Spree river in Berlin.
In 1649, the first community of "Diggers" raised in England. Sometimes seen as the forerunners of the modern anarchism, the Diggers ambition to reform the social order materialized by farming and distributing food from common land. Centuries later in San Francisco, members of a street-theater group reclaimed the "Diggers" name and revived their ideas by performing and living the lifestyle of an alternative society, free from private property.
In this context French architect and curator Joanne Pouzenc describes the present situation in Berlin: Along the river Spree, the notion of land ownership and gentrification is at stake. Whereas the protests concerning the prospective use of strategical estate properties are continuously going on, creative alternative models of ownership, communal occupation and cultivation of land sparkle around the river banks. Taking different forms of community living, initiatives like Holzmarkt, Spreefeld and Teepeeland show another way to consider the act of building in the present context, focused on quality of living rather than speculation.
The reading group will focus on the original texts and manifestos developed by the "Diggers" to address the specific question of land ownership and property models.
Participants of the reading group include:
Karima Boudou – curator
Greta Taubert – journalist, author of Apocalypse Jetzt!
Fiona Shipwright – editor at Uncube
Paola Alfaro d'Alencon – architect, urban researcher at the TU Berlin
Rosario Talevi – architect and independent curator, researcher at IfA/TU Berlin
Alexander Römer – architect, member of Exyzt, founder of Constructlab
Michael LaFond – Community developper, Projekt developer, founder of id22, initiator-inhabitant of Spreefeld
Valentina Karga – artist, co-founder of the collective disaster
Fernand Schmitz – Teepeeland inhabitant and co-founder
Subsequently, at 8 p.m., the artist Ali Cherri (Paris/Beirut) will present his short film "The Digger" (2015), shot on a Neolithic necropolis in the desert of Sharjah in the United Arab Emirates. The artist will discuss his research on the place of the archeological object in the construction of national historical narratives in the Arab World.
In line with Ali Cherri's ongoing collaboration with Deutsches Archäologisches Institut in Berlin, the screening and presentation, through the case study of a piece of land in the United Arab Emirates, will re-assess and open up a debate around these current issues.
Exhibition in collaboration with Institut français and Jeunescommissaires.

Jeunes Commissaires http://www.jeunescommissaires.de/de