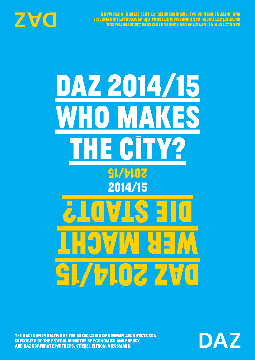 DAZ is a think-tank, a place for exchange, transmission and debate. In workshops, exhibitions, talks, film nights and book presentations, architects, city planners, artists, citizens, users and critics come together to discuss current issues in architecture, spatial production and urban life.
Who makes the city? asks Artistic Director Matthias Böttger in 2014/15. How can social objectives and formal synthesis, robust responsibility and fragile creativity be combined? How can speculative practice change architecture? Architecture´s task is not only to provide solutions, but to name and describe new challenges. Architecture provides no definitive answers, but remains open for questions – you are cordially invited to share and discuss!
More information
Check out our virtual space where you can find the latest news and pictures of all our events on Facebook or listen to the DAZ birds tweeting.
Subscribe to our newsletter! http://www.daz.de/de/newsletter/