Vernissage at DAZ: 15.11.2019, 7pm Exhibition: 16.11. 2019 – 2.2.2020, wed - sun 3 - 8 pm
"Dear Mr. Regierender Bürgermeister …"
What ideas, visions and expectations do architects and stakeholders of the city have for Berlin?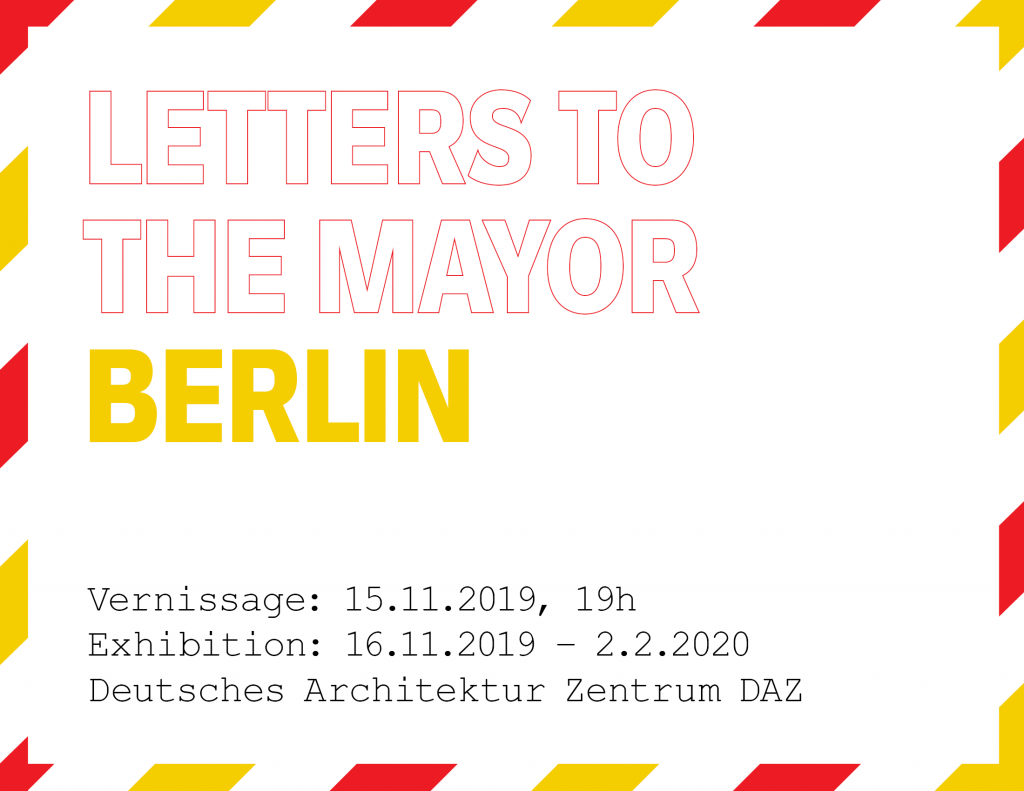 As part of a global exhibition project, the DAZ, together with Storefront for Art and Architecture from New York, has invited 100 international architects and city actors to formulate their ideas for a sustainable Berlin worth living in and to address them directly to the government.
What do your spatial and architectural ideas, visions and expectations for Berlin look like? What social and urban challenges could Berlin better meet through greater interaction between politics and design, and what political framework conditions are needed to achieve this? In view of the tense situation on the housing market, how should Berlin develop further and remain affordable? How can high expectations of the social and sustainable development of the city be fulfilled or what role do changing working environments play in this?
These letters with suggestions for a livable, sustainable Berlin will be officially handed over to the Governing Mayor Michael Müller at the opening on 15 November 2019 at DAZ. They will be on display until 2 February 2020 and will be discussed at various events with local stakeholders.

A project initiated by Storefront for Art and Architecture, New York and curated by the DAZ team
Exhibition design: something fantastic
The exhibition was supported by WBM Wohnungsbaugesellschaft Berlin-Mitte.